Saloon boat Amsterdam
An overview of our electrically powered saloon boats
All of our saloon boats are historical ships that have been authentically restored.
Therefore, we can proudly present that the Dutch Federation of Sailing Heritage (FVEN)
has awarded our entire fleet as Sailing Heritage with the highest possible review.
Every winter, all of our saloon boats are painted and lacquered. Over the last years, all of our boats have been converted into electrically powered saloon boats. We have chosen for lithium-ion batteries that are loaded with green energy every night. As a result, the boats are 100% clean and silent and the comfort on board has even improved with no vibrations, no diesel smell and remarkably silent. On top of this, our boats are provided with hot air heating, Bluetooth Soundsystem as well as a sliding roof on the after deck or in the saloon, in case of nice weather.
We would love to tell you about the construction, previous owners and their use of the saloon boats.
PARADIS 2-12 guests, diner 6
The Paradis built as a private luxury saloon boat, is still providing the same service as it was in 1920, the year of its construction, plus a great deal more. Its narrow shape and low structure allow the beautifully refurbished vessel to go anywhere, from the narrow canals of the Amsterdam 'Jordaan' to the heart of the city. More about the Paradis


IVRESSE 2-12 guests, diner 10
On specific request the Ivresse was built in 1913 extra wide, making it a very spacious and stable saloon boat. When the sun is out, all windows of the salon can be opened as well as the roof window. The aft deck can be fully opened to enjoy the canals of Amsterdam. More about the Ivresse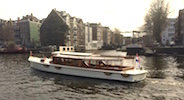 STERN 2-12 guests, diner 8-10
The Stern was built in 1920 by order of the board of the Royal Dutch Steamboat Company (KNSM). The boat is specially designed to sail in and around the Amsterdam canals and harbors. The spacious aft deck with its sliding roof, allows you to sit comfortably outside. More about the Stern.

BELLE EPOQUE max. 28 guests, buffet 24, diner 20
The Belle Epoque is an elegant saloon boat from 1910, beautifully refurbished and fully fitted out to meet the functional requirements of our day. At the same time the Belle Epoque has retained its authenticity and the charm of its heyday. More about the Belle Epoque
LIEVE 2-12 guests, dinner 10 guests.
With its spacious saloon and comfortable aft deck, the Lieve is a beautiful saloon boat with which you can enjoy the city of Amsterdam and its surroundings all year round. She was built in 1935 as a board ship and sailed in and around Amsterdam, but also throughout Europe. This unique salon boat offers very comfortable seating both in the covered saloon and outside on the aft deck where you can enjoy the sun. More about the salon boat Lieve.