W E L C O M E T O P R I V A T E B O A T T O U R S
Thank you very much for your support over the past year !

Because of the current COVID-19 measures,
we may not sail for the time being until at least April 20.
We will keep you informed about the latest developments.
Hopefully you will be able to enjoy again (we sincerely hope so!!) from the end of April one of our comfortable saloon boats again this year, together with your partner and/or family. Of course, the latest RIVM guidelines will be followed and the skipper will keep a distance of 1.5 metres on board.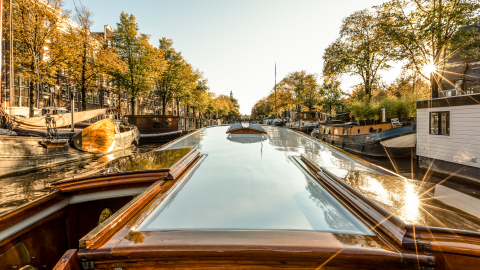 IF YOU DO NOT YET HAVE THE OPPORTUNITY TO SAIL BUT WOULD YOU

LIKE TO SUPPORT? AS THIS WOULD BE HIGHLY APPREIATED, WE WOULD LIKE TO OFFER

YOU A DISCOUNT ON YOUR FUTURE PRIVATE CRUISE.
YOU CAN BUY A VOUCHER UNTIL 01-07-2021 AND USE IT UNTIL THE END OF 2021*
You can buy your voucher now for a 2 hour cruise and pay € 370,- instead of € 430,-.
Prices include VAT, captain, embark and disembark within the canals.
To celebrate that you are back on board you will receive a delicious bottle of Veuve Clicquot Brut 0,75L as a welcome gift!
We are looking forward to your voucher request by e-mail. You will receive a voucher invoice and payment confirmation from us. The cruise can be completed in due course according to your wishes. * Excluding events & holidays. We'll be happy to assist, we hope to see you soon!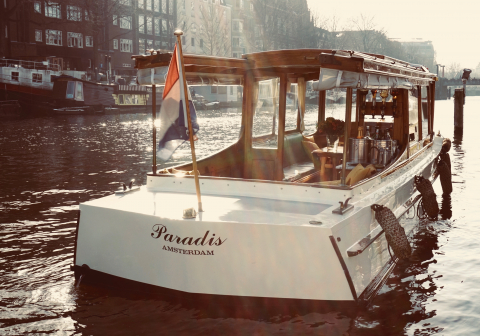 Stylishly sailing in and around Amsterdam on a classic private saloon boat
Enjoy a canal cruise through our beautiful city centre of Amsterdam. Experience a unique view from the water on the famous bridges and unique canal houses. Our historical saloon boats are luxurious and comfortable and offer a cosy setting to enjoy and explore the city. We are happy to welcome you on board!
We offer completely exclusive private boat tours through the canals of Amsterdam. Sail through the old area the Jordaan, see the 17th century famous canal houses, the Amstel river and the modern architecture on the IJ, for example the ADAM Tower and Eye Museum. Enjoy breakfast, lunch, afternoon tea or a stylish three course dinner served on board. A cocktail cruise with perhaps typical Dutch or international appetizers is also possible.
Please visit our fleet and allow us to introduce our well-maintained, electrically powered saloon boats. Our professional captains are pleased to guide you and inform you about the city.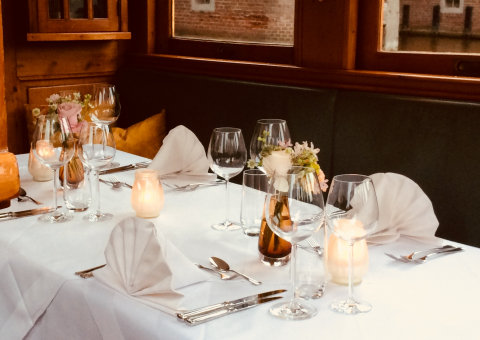 Plan your exclusive experience together with us
Surprise your partner with a romantic cruise or organize an unforgettable anniversary on the canals with family and friends*. Our saloon boats are also very suitable for corporate meetings* as well as a wonderful way of transfer from one location to another, for example from your hotel to a restaurant. If you have something very special in mind like a wedding proposal, our historical boats offer a great decor. Our saloon boats are officially designated wedding venues for the Amsterdam Centre area. Please contact us for the possibilities!
*Compliance with the Dutch RIVM guidelines on board must be ensured for guests and crew. Thank you on behalf of the entire team of Private Boat Tours.

Latest news and situation in Amsterdam
Our request to the City of Amsterdam is to review the policy so that the sailing heritage, the characteristic salon boats of Amsterdam are preserved and entrepreneurs can continue their business and jobs are preserved! Therefore we ask for your support!
We would greatly appreciate it if you would sign
the petition 'Save the salon boats of Amsterdam'
and share it as much as possible. Thank you very much!
Experience Amsterdam at its finest!